Screen Printing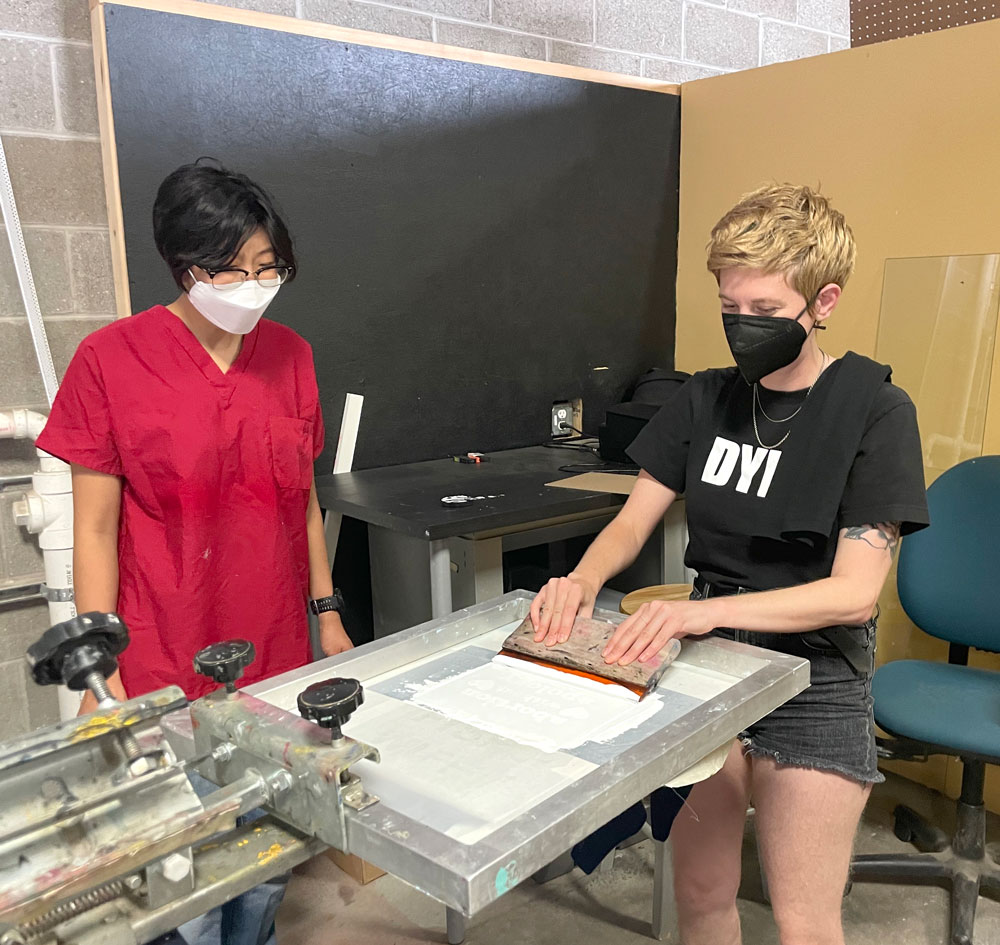 Our Screenprinting area focuses on providing space and equipment for printing on clothes, canvas, and other flat substrates such as wood. The equipment we offer includes a four-color printing press, exposure unit, printer for transparencies, and a washout sink with a pressure washer. The sink is specially designed to handle screen printing chemicals.
We also offer consumables such as transparencies, photoemulsion, and emulsion stripper at cost to the membership, as well as classes on various screenprinting methods. Several local businesses have even started their screenprinting operations from the Bodgery. Our area presents a uniquely accessible entry point into the hobby to allow for creative experimentation.
We are currently working on constructing a darkroom that meets fire safety code and obtaining a flash unit to maximize the capabilities of a multi-color press.
Please contact us with any questions at screenprinting@thebodgery.org.
Leatherworking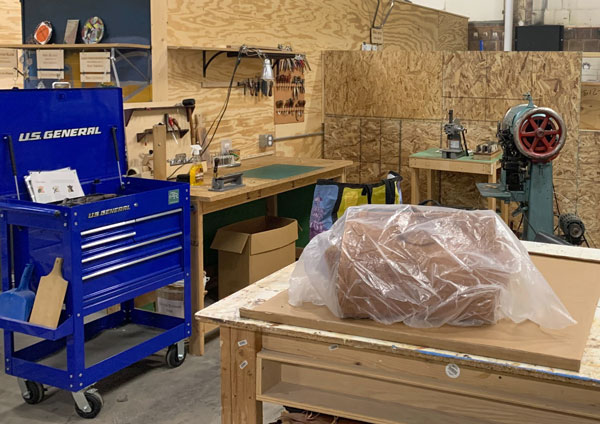 The leather area focuses on providing tooling and education for the practice of traditional leathercraft. The area is best suited for the creation of small goods like handbags, belts, sheaths, holsters, and anything else you can think up.
This includes hand-sewing using the beautiful and versatile saddle stitch method, a bench-mounted splitter to thin strap leather, multiple methods of cutting and thinning leather by hand, a plethora of punches, hardware setters, the list goes on.
If you're looking to take the first steps into one of the oldest crafts in human history, stop on by or email leathercraft@thebodgery.org to get started!
Ceramics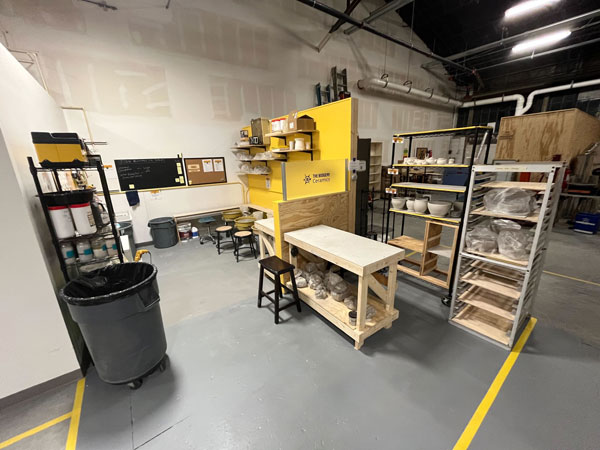 We have a volunteer-run ceramics area for hand-building and pottery with mid-range stoneware clay. In the future we plan to offer classes and workshops for beginners and intermediate potters/ceramicists. Located nearby (within the Bodgery) is a Paragon 10-sided electric kiln for firing up to cone 6 oxidation.
Tools available for members:
Clay for purchase
Hand tools for hand-building including loop tools, pear tools, needle tools, fettling knives, rolling pin, paddles and more!
Hand tools for wheel throwing including ribs, sponges, wooden knives, cut off wires, pot lifters and more!
Pottery Wheels (x2 Brent and x1 Shimpo)
Ware-boards, bags and member storage
Extruder gun
Work/wedging tables
Banding wheel, brushes, drill with mixing attachment
A supply of glazes, underglazes and wax resist
Please contact us with any questions at ceramics@thebodgery.org.
Blacksmithing (building a space for it)
While we currently cannot do blacksmithing, we have several options (in storage from our last space) for heating metal and hitting it hard.
To bring them back online, we'll need to add a City-approved ventilation and fire-suppression system. If you have passion around helping make that happen, please let us know!
Forges
Anvils
Hammers and other tools
For more details on all our tools, check out the wiki!