We're offering tours of the space, starting
Friday, July 5th, from 7-10pm.
910 Mayer Ave – parking out front
We moved out of our Robertson location at the end of May, and have been getting the Oscar Mayer space ready since. With the layers of permits required for our renovations, and the use of volunteer labor, we will be closed to the public through June. We apologize for the inconvenience.
The good news is that we're making great progress! Our members are crushing it. Walls have been built between shop areas, the painting is going well, and electricians are taking that delicious industrial power from the massive panels and dropping convenient outlets around the huge shop. They're almost done!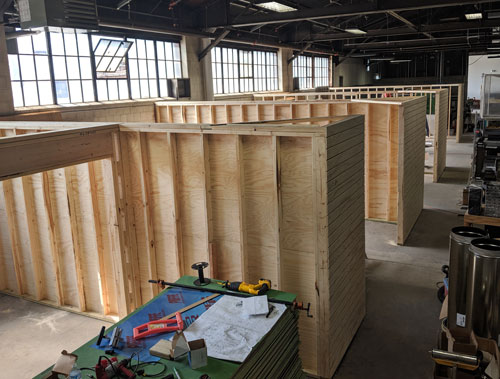 We'll post updates on this News page (link from the banner across the top of our site), and progress photos on Instagram. We'll start with public tours (July 5th, and every Friday night following), and hopefully open fully in mid-July!
And in case you wondered how much work it is to move literal tons of tools, equipment, and materials, check out the timelapse below! My back hurts just watching it…
Reader Interactions